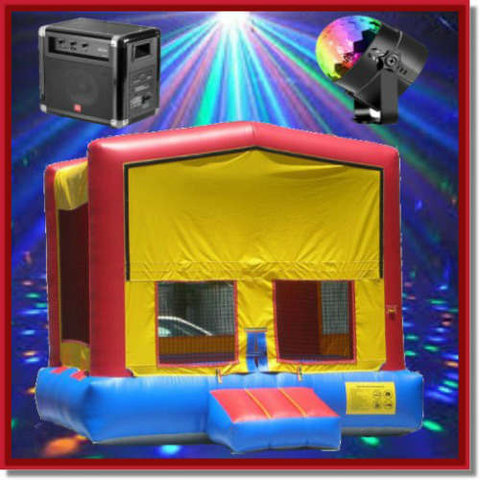 The Disco Bounce House Package
Because of our powerful Clolorado sun, we recommend this package as an overnight only rental.



Package Includes;
The Big House, Bluetooth/ Karaoke/ PA Speaker and
installed inside your bouncer,
The Disco Bounce Upgrade FREE!


Bluetooth/ Karaoke/ PA Speaker
Be the Master of Ceremonies and the Disk Jockey at your next party, BBQ, camping trip, or family outing using this all in one Bluetooth Party Speaker, PA System and Karaoke Machine. This system is impressive and very simple to use. Not to mention, the sound quality is superb.


FREE

- The Disco Bounce Upgrade


When we install this little gem inside your bouncer it will cast a magnificent colorful effect that covers an amazingly large area for it's compact size. It can automatically change the rotation and adjust to a variety of modes. This little wonder can also dance to the rhythm of the music. With its LED technology, it stays cool to the touch and it also comes with a wireless remote.
The Big House also has optional 5'x10' art panels such as
Happy Birthday
,
Princess
,
Pirate
and
Race Car
themes that can be installed on the front of the bouncer. You can make your selection after The Big House has been added to your cart.
FREE - Setup and Takedown




*FREE - Delivery



The Big House is a large
American Made
commercial grade unit. This is the exact type and quality of bounce house you see at the fairs. It has a spacious interior with a pitched roof. It's perfect for those high jumps and taller children and also strong enough for adults. The Big House also includes an interior basketball goal.
Setup Area- 17' Deep x 15' Wide x 15' Tall - "Indoor or Outdoor Setup"
Please be sure to measure your setup area including the hight requirements to make sure there will not be any tree limbs against the bounce house before ordering online.
Outlets- 1
*Half Day- 6 Hour Rental:
$229.00
All Day- 11 Hour Rental:
$269.00
All Day + Overnight:
$299.00
Ages 3 to Adult
Total weight limit 875 Lbs
Rider Recommendations for Safety



Ages 3-6 = 10 Children
Ages 7-10 = 6 Children "This is the Wild Group"
Ages 11-16 = 5 Riders
Ages 17 to Adult = 4 Riders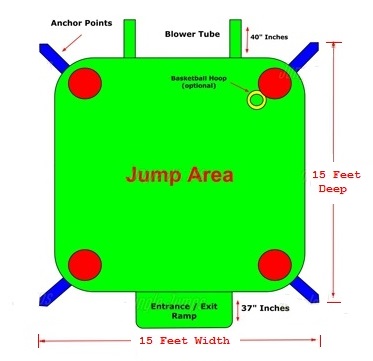 * Half-Day Rentals are limited to within 15 miles of zip code 80110 to your setup zip code.
* You can find more information on Free Delivery in the About Us section of the home page.
https://www.moonwalksofdenver.com/items/the_disco_bounce_package/


Updated 05/04/2022