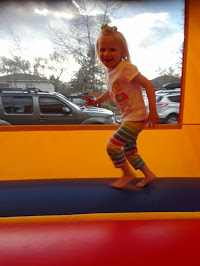 5 Stars
You made our daughter's birthday party fun. She said it was the best party she has ever had! All the kids from 4-21 enjoyed it! You are professional and also very easy to order from. I look forward to renting from you for our next party!
D.C
Englewood

5 Stars
Such a smooth and easy process! Reasonable rates and really great service!
L.W
Littleton

5 Stars
I highly recommend this company. I ordered online within a week of my event. Ordering online was very easy and I received my order before my event and Moonwalks was courteous and professional. Will use again.
M.W
Lone Tree

5 Stars
Best rates and customer service, I can't wait to use this company again.
R.S
Parker

5 Stars
If we ever need a bounce house or water slide we would use you again in a heart beat.
K.F
Greenwood Village

5 Stars
Thank you for giving us the opportunity to rent your bounce house on such a short notice. It was beyond our expectations.
L.H
Denver

5 Stars
The owner was great! went above an beyond to check on us after the severe weather we had. He also lent us a canopy to use for our party.
L.J
Aurora

5 Stars
You are awesome to do business with!
J.B
Castle Rock

5 Stars
Keep up the great work! We'll definitely call again :)
J.K
Highlands Ranch

5 Stars
Excellent on everything. Moonwalks was awesome.
D.R
Littleton

5 Stars
Moonwalks gave great service, punctual, friendly and explained reasons behind rules, took time to be sure we were ok with everything.
J.B
Castle Rock

5 Stars
Absolutely best company to rent bounce house. This was definitely the best and easiest birthday party for our son.
F.S
Aurora

5 Stars
Thank you all for a great day. Our little girl is very happy.family and friend enjoyed themselves. You really don't understand how great you all made our family feel. Thank you all.
A.A
Englewood

5 Stars
Awesome service and helped us out when water main broke and extended our rental time. Much appreciated!
D.B
Highlands Ranch

5 Stars
After years of using another company, I can't tell you how pleased we are with the high level of quality, professionalism, and friendliness we experienced with Moonwalks of Denver. They will be our first contact when planning events from now on!
C.P
Aurora

5 Stars
I love this company! Everyone was so nice and helpful. The ordering process was so easy! Can't wait till next time.
R.S.
Littleton

5 Stars
Great service, very pleased and more importantly, the kids loved it! Thanks for all you did to make our birthday party a success!
J.B
Highlands Ranch

5 Stars
Very nice bouncy house. Kids absolutely loved it! Simple to schedule for event and everything went off without a hitch. Will definitely use again when we have our annual event!
D.M
Centennial

5 Stars
Great customer service. Everything went very smoothly. I have already and will be recommending you to friends and family and will be using you again in the future!!
A.A
Englewood

5 Stars
Question; Would you recommend us to a friend?

You bet, the whole process was seamless and very customer oriented, even though the weather didn't hold out for our event the whole process was super professional and helpful.
S.J
Denver

5 Stars
We actually had to change the date due to lovely Colorado weather and they made it hassle free! The bounce castle we originally reserved was not available so they accommodated us with another bounce house to suite our needs! I could not be more pleased and I would defiantly use them for future parties as well to everyone.
A.M
Golden

5 Stars
Highly recommended. Exceptional, flexible and friendly service. Extremely affordable. Have and will continue to recommend you guys. Keep up the great work!
J.P
Englewood

5 Stars
Question; Would you recommend us to a friend?

Absolutely! The owner was so friendly and professional. He takes pride in his business and it shows! He communicated with us during the entire process and handled everything so efficiently. Set up and take down were a breeze. He made us feel very secure in the safety of the unit. It was a big hit at our party! Thank you!!
J.W
Aurora

5 Stars
Thank you so much. You were so easy to work with and followed through with everything! The graduates LOVED the bouncy house and so did all of the adults too!
L.R
Denver

5 Stars
Thank you so much, everything was perfect and put up and taken down as planned! Exceeded our expectations!
T.Z
Aurora

5 Stars
Great service, reliable, good quality equipment
L.S
Denver

5 Stars
Excellent Service
R.B
Lakewood

5 Stars
It was a great experience!
B.C
Englewood

5 Stars
Great service, great price! Thanks
J.H
Littleton

5 Stars
Excellent customer service and value!
K.M
Lafayette

5 Stars
Question; Would you recommend us to a friend?

Absolutely
L.G
Centennial

5 Stars
Superior!
D.P
Englewood

5 Stars
Made our event a Huge success. Will use you again.
J.M
Aurora

5 Stars
It was a great party. Thank you!
E.P.
Englewood

5 Stars
Kids loved it and service was outstanding.
D.W.
Centennial

5 Stars
We had a blast. Thank you!
C.E.

5 Stars
Will definitely use in the future. May also try to use for future fire dept events.
H.N.

5 Stars
Excellent service! will definitely use again!
R.S.

4.83 Stars
Keep doing what you're doing.
W.L.

5 Stars
Last minute order and it was fulfilled and handled professionally! Happy customer...thanks!
B.W.

5 Stars
Don't change a thing!
A.L.

5 Stars
Great service,
T.S.

5 Stars
Everything was great!
K.F.

5 Stars
Wonderful and perfect experience!!!
R.M.
Updated 03/20/2023
www.moonwalksofdenver.com